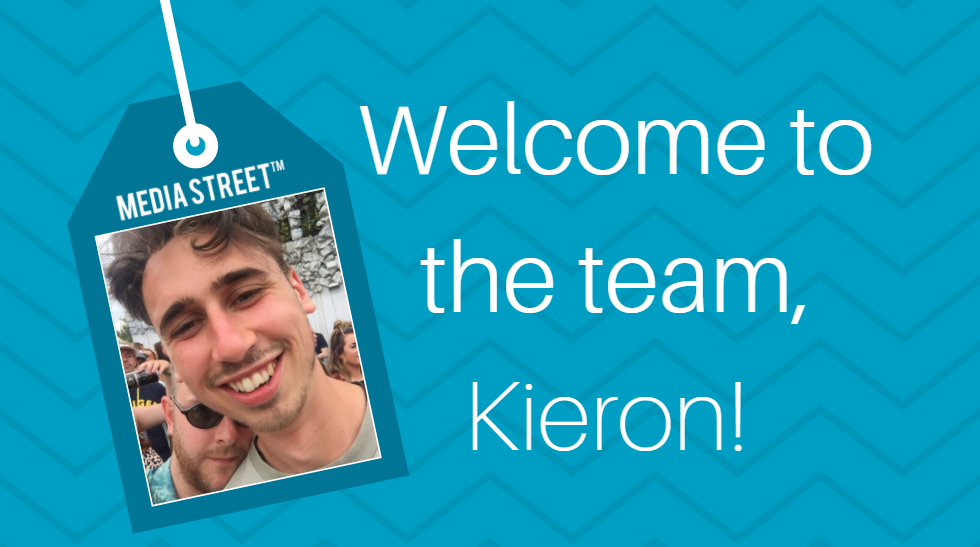 At Media Street it's our direct, personable, and transparent relationship with our clients that separates us from others. When seeking our help, not only do you get unrivalled results, you get an industry partner who's willing to help with all facets of your organisation.
Considering we're this connected to our clients, you can imagine how difficult it is to find a fitting piece to the puzzle that is our team. But here we are, one content editor down and one copywriter up; Kieron's joined the team. And we couldn't be happier.
We all know Kieron pretty well – a vigorous search for that fitting piece implored us to. But now it's time for you to meet the fella!
*passes mic*
Rarely do people get the opportunity to introduce themselves with such revision – so, you could say I'm going to seize this moment. But how to do it? I could do some sort of pseudo-interview where I conjure the questions and therefore get to express only the best parts about myself– wait, that sounds a great idea.
So, Kieron: just how proud were you when you scored that winning goal in your u13s Sunday League football game on March 12th, 2006?
Oh it was a defining moment. That game I showed great fortitude. The game was 0-0 — everyone was a tad deflated. And then it happened. Receive ball. Compose self. Bang. Goal. It was from that moment I knew I had the strength to be a writer.
Riveting. In that last answer you both claimed to be a writer whilst also ignoring the laws of the English language for effect. Is your life always this paradoxical?
A paradoxical life is the only life I wish to live: a dictum I live by? Make money by spending money. What a good question, interviewer.
Quite a fine answer too. Maybe it's time to get a bit more serious: what led you to this point in your life?
I lived a normal life until 19 – pursuing all set ahead of me; education, sports, romance. Then I took a year out to go to California, which was somewhat against the grain. I learnt how to surf! After that I got back on course by going to University in Brighton studying Sociology. Within the last year I've been writing my own personal blog and setting up a creative studio, whilst also working administrative jobs. Not getting satisfaction from my day job, I decided I wanted a change. And that's when I thought of copywriting; so I did an internship at the award-winning e3 Media, and then I got the job here. I also couldn't be happier.
You're a writer: what're your favourite works of words?
My favourite book ever is Catcher in the Rye. But that phoney J.D Salinger was a bit lazy, so he didn't do any other notable books. That upsets me. My favourite journalist is Shea Serrano – he mostly writes about Rap and Basketball. I love both of those things and he explores them in an incredibly unique way. Probably my biggest inspiration.
What's your biggest pet-peeve?
When I can't work out whether a word's hyphenated or not.
So far we've found out you like sports, scoring winning goals, rap, and basketball. Is there anything else you care to mention?
I'll get the obvious shout-outs out of the way first of all: garlic, chilli, and houmous. Now the more intricate stuff: I'd like to shout-out the word loquacious – because it's amazing. And I'd like to also shout-out the Los Angeles Lakers, The Social Network (my favourite film of all time), and Adam Sandler's acting career in the 90s.
And finally: are you excited to get going here at Media Street?
Indubitably. Writing is my passion. To do it for a living is an absolute dream. I want to make our clients more successful than ever – that is my sole goal. And the best way to do that is to get going. So yes, I am excited.