Here at Media Street we are thrilled to share that we have recently won 'Devon's Best Digital Marketing Agency 2023' award, presented by SME Business – an esteemed authority in recognising excellence within the business community.
This recognition is a testament to our unwavering commitment to delivering exceptional digital marketing solutions – locally, nationwide and internationally. Building upon our success as last year's recipient of the 'Best Full-Service Digital Marketing Agency – Devon' award, we have elevated our standards to new heights.
At Media Street, we take great pride in our ability to provide comprehensive digital marketing services tailored to meet the unique needs of our diverse clientele. From captivating website design and development to advanced search engine optimisation strategies, compelling social media campaigns, and precise Google Ads advertising, our team of marketing professionals brings expertise, creativity, and a results-driven approach to every project.
Digital Marketing Success Supported By Our Clients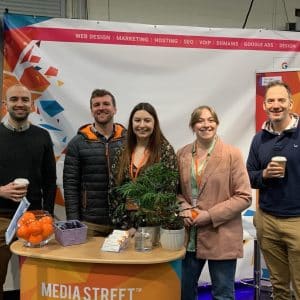 One of our key differentiators lies in our unwavering dedication to staying at the forefront of the ever-evolving digital landscape. We embrace emerging trends, cutting-edge technologies, and innovative strategies to ensure that our clients always stay one step ahead of their competition. Our team's continuous pursuit of knowledge and their ability to adapt and innovate are what drive our success and the success of our valued clients. This year, we have attended two great marketing shows already – BrightonSEO and Building Brands Marketing Conference in Plymouth – where individual team members immersed themselves in the ever-evolving digital landscape and taken away some key elements to accelerate their client strategies.
Speaking of clients, we extend our heartfelt gratitude to each and every one who has placed their trust in us. It is your partnership, collaboration and relationships with us that fuel our passion and inspire us to push marketing boundaries. From small, local startups to established enterprises across various industries, we are honoured to work alongside you to achieve your digital marketing objectives and witness your businesses flourish online.
Grace Jalowiecka, Marketing Manager at Media Street, commented: "Being part of the UK Enterprise Awards is a testament to our commitment to client excellence and it further motivates us to continue raising the bar in the digital marketing industry. I'm extremely proud of my team, and the whole of Media Street, for providing our clients with fantastic support, guidance and results across the multitude of digital services we provide."
I'm really looking forward to what we can achieve in the near future as the company embarks on a new era of growth."
Growing As Devon's Best Digital Agency In Exeter
Once again, we extend our gratitude to our exceptional team and loyal client. Your trust and confidence in Media Street have been instrumental in our success, and we are excited to continue our journey together, driving digital growth and achieving new milestones.