Easymatch is one of the only truly cloud based sales, lettings and property management software systems on the market. It has 3 front end products, Easymatch Start Up, Easymatch and Easymatch Pro, all of which can host their Property Management bolt on.
We had a few initial questions regarding their claim to be 'ultra-reliable' and on their higher than average prices, however once we got started we were able to see and understand why they're able to make such a bold claim and learned why their fees become irrelevant once you learn how to use the product in order to grow your business.
Designed to increase your market share
Whilst other estate agency software systems have been built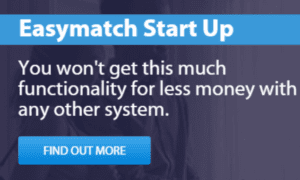 to increase productivity and are essentially admin tools, Easymatch is the only system that has been proven to grow their clients market share. If the products are used as instructed any agent has the ability to increase their valuations by an average of 30%, viewings by an average of 28% and average fee by 29%, figures that have been calculated using data from their existing clients.
Easymatch's secret is the Automatic Matching function. Their automatic matching is more advanced than you're probably used to. There's no clicking 'run match' and 'send matching emails', the system runs the match and sends the emails all by itself. Applicants are sent personalised emails from their assigned negotiator inviting them to view their list of matching properties. It has been designed in such a way that many of their clients no longer have to make outbound sales calls because the automatic matching function delivers them enough inbound viewing enquiries to fill their diaries.
[bctt tweet="#estateagents can increase their valuations by an average of 30% & viewings by 28%! Check out how here…"]
To date, we haven't seen another estate agency software provider that has attempted to not change what estate agents do, but how they do it. Easymatch seems to understand that the best place for a negotiator is out at viewings or valuations, and following up on those meetings. Being stuck behind a desk isn't helping an agent drum up business, which is why they wanted to create a system that continues to create that business while the agent is out of the office.
The most reliable product on the market?
Easymatch are so confident in their claim of being the most reliable product on the market that they have added an 'Easymatch System Status' to their website for all to see. The status includes all scheduled maintenance and since it was added to their site their figures haven't dropped below 99% uptime. Any scheduled maintenance is usually done and dusted before their clients start logging in to the system so that 1% of downtime rarely has a negative impact on the people that rely on the Easymatch products.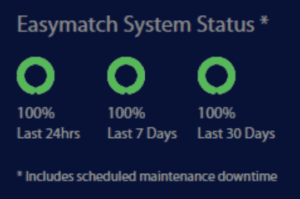 Whilst initial training is given, Easymatch is intuitive and simple enough to get to grips with that agents are able to 'figure it out' as they use it if necessary. They have built a questions, comments and suggestions bar directly into the system and clients are able to contact them directly from the page they're experiencing the problem from.
They have been able to boast the shortest support response times in the industry, averaging just 30 minutes, and that's simply because they just don't have many technical issues to deal with. The support questions they do receive are normally asking how to do one thing or another. If a specific question is asked frequently, measures are taken to make that task more obvious within the system.
>>>Check out the Easymatch Estate Agents Software Here
How safe is it really?
Their software is hosted with Amazon Web Services, a flexible, highly scalable, and low-cost way to deliver their product to their clients. It allows their clients to access Easymatch from anywhere with an internet connection. The threat of frequent system downtime that comes with server and web based software systems is removed, as is additional pricing for uploading data and multiple users, simply because they host their products in the cloud.
However the most important feature of Hosting with Amazon is that it gives all Easymatch clients the ability to create their own Amazon S3 account. Here they can upload and download their data whenever they like and as much as they like. To their credit, Easymatch doesn't take ownership of their clients' data. They understand that that data is not theirs and without their clients that data is effectively useless to them. Not allowing their clients access to that data would be counterproductive to the sense of safety and reliability they're trying to create. By offering the Amazon S3 backup, they're proving that they believe their clients will benefit so much from using an Easymatch product that they won't want to leave, but should they choose to it would be very easy for them to do so.
What does it look like?
This is where some might think Easymatch falls short. The user interface isn't as pretty as other software providers. It's a simple design that's stuck for a while because the majority of their budget has gone into system development. What would you prefer, a system that is fast, reliable and offers the majority of functionality you need to run your business effectively? Or a system that looks great but is slow and falls short in a number of key areas?
The interface as it is has very few drawbacks, it just doesn't really translate well for a company that wants to be seen as an innovator in property software. If aesthetics are important to you, they are on their way. The Easymatch product development team are now taking the time to create new look for their products, however these aren't being produced as a matter of urgency, and no need really as their products function perfectly well as they are. What they do want is to create a visually pleasing aesthetic that works seamlessly across all platforms, without it interfering in system development. Easymatch continues to stand by their belief in continuously improving their products in term of functionality above all else, and we must say we agree.