It's one thing creating exceptional websites and marketing strategies for clients across the globe, but would you also believe us if we told you two members of the Media Street team were also raising thousands of pounds for charity?
Well, that's what Manager Director, Charlie and Marketing Manager, Grace, have decided to do in 2019! With a passion for adventure and the outdoors, both are not only training for the Three Peaks, but are also walking the Devon coastline throughout the year to raise awareness and money for a charity close to both of their hearts.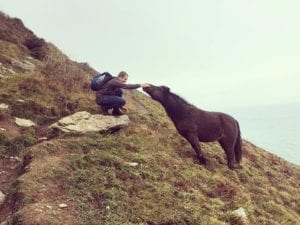 "After completing four months of volunteering in Bali back in 2017, I knew I wanted to do something outstanding in 2019 – not just outside of the Media Street office!" says Grace. "Charlie came back from the Dakar Challenge in December in aid of the mental health charity, and I was looking to do something different in my spare time also. That's where I came up with the idea of doing the Three Peaks."
But the Three Peaks wasn't enough for Charlie! Over a lime and soda, they created a plan that would see them walk a portion of the Devon coastline, every weekend, for the whole year. This came about after Grace mentioned that it wasn't enough that they just did a 'one-off' walk – the fundraiser needed to reflect what individuals suffering from mental health conditions go through on a daily basis, 365 days a year.
The Facts and Figures
Mind work on a national level to provide outstanding and needed support to individuals across the UK. They provide life-saving information when it's needed most, as well as educating people at a young age about the effects that mental health has on daily life. They act and they listen; "Everything we say and do is rooted in the experiences of people who know what it's like to live with a mental health problem.
Did you Know?
Nearly half of all adults in the UK say they've experienced mental health problems at some point in their life.
Three young people in every class of 30 in the UK have a diagnosable mental health problem.
Nearly nine out of ten people with mental health problems in England and Wales experience discrimination in at least one area of their life.
(Facts taken from Mind.org)
It's a well-known fact that people often shy away from wanting to get involved in a topic with such stigmatism, but it's also a well-known fact that until you have experienced it yourself, you will never know how bad it can really get. That's why Mind work with employers to support over half a million of individuals for better mental health in their working environment and gave life-saving support to 9,000 people having a mental health crisis, when they need it most.
HOW YOU CAN FOLLOW US
Along with hundreds of others raising money for Mind, we want to make a positive change to the accessibility of free, professional mental health care and help across the nation. We want to help people to know it's ok to not be ok and know that there are friendly, understanding people who can help in times of need, only a phone call away.
That's why Charlie and Grace are pulling out all of the stops to make sure their 2019 adventure is one to remember, and want you to be just as involved! They are in the process of setting up walking events local to Exeter to get friends, family and others involved so we can get fit, have fun and walk for Mind together!
As Charlie says: "We have currently walked 67 miles and counting. Every week is slightly harder and slightly longer than the last but one thing is for sure, it's very rewarding and very addictive! It would be great to get as many people involved and so they can see how walking to raise awareness for such a great cause like Mind, is so worthwhile."
In the meantime, you can follow us on our dedicated Facebook and Instagram pages to follow the progress, planning and picturesque coastal walks every week. But what they would really love, more than anything is to donate to their GoFundMe page.
Even if it's £5 or £10, every contribution in the pot matters and will certainly boost their morale with every step they take. When we put our mind to the miles, anything is possible!