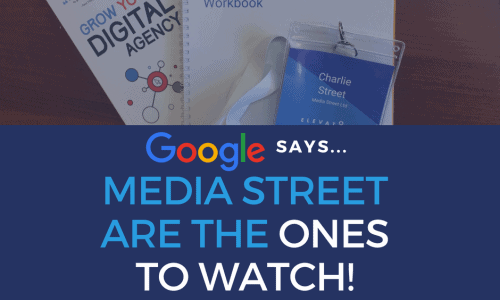 We are very excited to announce that Media Street has been personally chosen by Google to take part in its elite, invite-only Elevator business coaching programme!
Our company was hand-picked from over 30,000 digital agencies based in the UK. Citing us as "one to watch out for" in the future due to our outstanding performance.
Our MD Charlie Street, has already attended a day-long introductory workshop at Google HQ in London on Wednesday 24 May, where he had the opportunity to meet some of the fastest-growing agencies in the UK.
"Elevator is designed to help accelerate the growth of Europe's highest-potential badged Google Partners agencies." Charlie comments. "By participating in Elevator, agency directors get extra support from Google with their business strategy, and help in reaching their long-term goals."
The programme, which will focus on key areas such as financial management and business strategy, was created by one of the UK's leading business experts, Robert Craven – an international keynote speaker, author, consultant and owner of The Directors' Centre and training company.
Over the years, Media Street has witnessed continual growth, and, seeing an increasing demand for high-quality SEO, social media, PPC, web design and development and copywriting, are always on the lookout to improve our services.
"It's a fantastic experience and we are very grateful to Google for the privilege." Charlie comments. "We know that we're great at what we do, and our main objective is always to make our customers happy; however, this programme will also help us identify a clear strategy to help us grow and succeed as a business."
As one of Google's top agencies in the UK, Media Street will be looking to further its knowledge and business acumen by taking part in three more day-long courses, a series of mentoring sessions, a buddying system where chosen agencies will come together to create white papers and help each other to grow.
Charlie is looking forward to returning to London for the next installment!