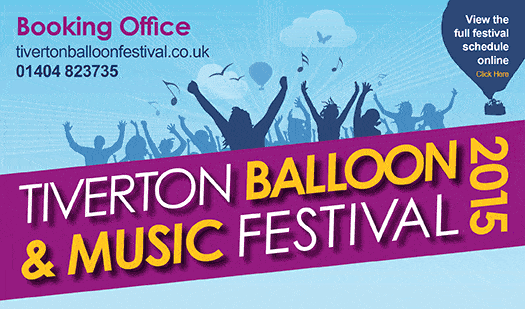 Tiverton Balloon and Music Festival is a valued customer of whom we have been with since the festival was founded. The festival is the number 1 event for hot air balloons, music, food, workshops and various forms of entertainment. Established in 2011, we have been there all the way, significantly building on their online voices and their overall voice in the media. In the process we have established a professional relationship that is still going strong 4 years on. So how have we remained such a good partnership?
It all comes down to the statistics. Each year we help to attract around 15,000 more festival goers than before. This is a big challenge but has always been achieved and can be achieved for many businesses alike. All your business needs is the recipe of hard work, time and the understanding of using the online world to your business' advantage. That's where we come in.

Secret For Tiverton Balloon and Music Festival's for Online Success?
Press:
Our services specifically include a rise in SEO rankings through online marketing, web design and general media management. So lets start with the subject of the press. The reason Tiverton Balloon and Music Festival has grown so vastly is because we work closely with press agencies to ensure frequent press releases go out to attract local interest and spark the attention of everyone else. To be substantial in the press, the right contacts and engaging content is mandatory.
Promotion
Tiverton, as a music festival, inevitably requires a lot of music promotion. The music industry is of such a magnitude that artist recognition can be rare. We use social media promotion, news story promotion and the broadcasting form of promotion to ensure we get the word out there. This will spark the artist names in the audiences eyes and they will wonder where they have seen it before.
Advising
Our marketing director, Colin Harrison, has begun the process of advising our clients and training them on how to market their business to the best of their ability. This is a valuable technique, the more knowledge shared, the better. This has allowed Tiverton Balloon and Music Festival to stand on their own to feet, pitching ideas to us and knowing how to approach the users of the internet, with the exact content they want. A relationship works both ways and this option can only make it grow more and more.
Creativity
In the case of Tiverton Balloon and Music Festival, the more creative forms of media marketing come from our managing director, Charlie Street. As a hot air balloon pilot himself, Charlie manages the technical side of the festival, liaising with the pilots and the balloon team directly to achieve bigger and better goals each and every year. As well as this, Charlie also proceeds to step outside of the box with the use of TV and radio broadcasts. No doubt, over the last 4 years you will have spotted Charlie on the local BBC or ITV news conducting interviews with the all important people involved.
To sum this up, our approach to online media success is to do things strategically through client communication, always thinking outside of the box and working with what we know, using our industry knowledge and contacts. These elements make up a service of great impact and continue to do so over the years, as seen with Tiverton Balloon and Music Festival.
If you have any queries about how Media Street can help your business, feel free to get in touch, whether over the phone on 01392 914033, through email at [email protected] or via our website>>> https://media-street.co.uk/contact-us/