In my last post I explained how to create and add a simple email signature within Outlook 2010 (link to article) so that it is automatically added when you go to create a new message.
During this tutorial I will explain how to do this using another well known email application – the ever-popular Windows Live.
Adding an Email Signature in Windows Live
1. Firstly, open up Windows Live and click on "Mail" – located on the lower-left hand side.
2. Next, open the File menu and click on "Options" followed by "Mail".
3. Once the Options window has opened, click on the Signatures tab. To create a new signature simply click "New".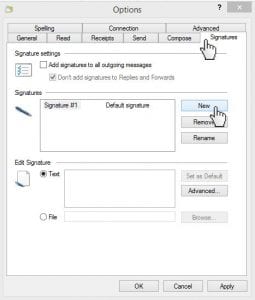 4. Under "Edit Signature" enter the text you would like to include in your email signature and click OK.
Adding an Email Signature in Windows Live
1. If you would like to include your newly created signature in all of your future messages, simply select the "Add signatures to all outgoing messages" checkbox before you click OK (step 5 above).
Hope that helps, Window Live users! Next time I'll cover adding a signature in Apple Mail but in the meantime check out this very funny article on urlesque on the 5 Most Annoying Types of Email Signature.