Our web design and digital marketing agency in Exeter celebrated 10 years of establishment on July 19th with an all day event at our offices! The Media Street team were ecstatic to see clients, friends and family members from far and wide at the event.
We set out to host an event that would celebrate this special landmark in the history of Media Street and allow us to get to know our clients and local business owners on a personal level. Through taking the necessary steps in the planning process – creating an engaging agenda for the day, giving attendees plenty of notice and promoting the event to businesses – we were able to bring people together for a day of fun-filled engagement.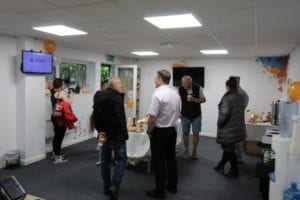 The event was just as much about teaching attendees about the industry we enjoy working in, and sharing our visions for where the digital world is headed, than it was to celebrate this landmark year for Media Street. With this in mind, our 10 Year Anniversary was a resounding success, as the Media Street team delivered group presentations on wide-ranging subject matters, held individual 1:1 workshops and organised a selection of activities, food & drink that was enjoyed by all!  
There was an abundance of intriguing conversations in between our industry focused talks and workshops, and never a dull moment with classic fun fair themed games such as Splat the Rat, Hook a Duck and Tin Can Alley running all day. Our commemorative 10 Year Anniversary Cakes certainly hit the spot too.
Rather predictably, the weather didn't exactly play ball, however, that didn't stop guests from challenging each other to our outdoor activities!
Insightful Industry Focused Group Presentations
Our Exeter SEO, marketing and web development specialists prepared detailed 15-minute group presentations and delivered them to engrossed audiences throughout the day. Here, we outline each of the talks and the key points from each:
The Do's And Don'ts Of Marketing – Our Marketing Manager, Grace, outlined some of the common mistakes to be aware of and some of the best practices to follow. 
Simplicity of Web Design – Our Head of Web Development, Faye, talked about how web design has progressed over the years while highlighting the appeal of minimalist, fresh and modern designs. 
How SEO Can Benefit Your Business – There are over 400 SEO techniques to be considered. We stressed how SEO is a long term investment and how it will take at least 3-4 months before clients see the positive benefits of work produced.
The Attraction of WordPress – How 34% of ALL websites are created and sustained through WordPress and why it has enjoyed such a meteoric rise.
Secrets For Social Success – The things to consider to boost social engagement and drive traffic to your website. 
The Future Of The Internet – In this talk, Managing Director Charlie Street emphasised the size of the role AI (Artificial Intelligence) will play in the near future. He also reinforced how businesses need to be prepared for the pending dominance of voice search.
Using Paid Advertising To Beat Your Competitors – Here, we highlighted the immediacy of paid advertising and how it can drastically improve your visibility in search engine results. 
Effective Ecommerce Design – The design features that should be present in an E-commerce website to ensure the maximisation of sales and growth of your business.
Top Tricks For Content Marketing – The Things to consider to entice your audience and keep them coming back, as well as the factors to keep in mind when trying to achieve better rankings. 
1:1 Workshops from our Devon Web Design & Marketing Heads
Not only did we deliver incisive and informative group presentations at our 10 Year Anniversary Event, but we sat down with existing and prospective clients to assess discuss their marketing and web design. Our web design experts analysed websites and outlined how they could be improved to attract more visitors and keep them on the site for longer with an enhanced user experience. 
Meanwhile, during our 1:1 marketing workshop slots, we delivered advice in the areas that had been earmarked by ourselves or business owners as one that can be improved. For example, we took a look at the Adwords campaigns of certain businesses and evaluated if budgets were being distributed to the right areas. With others, we looked at their current SEO efforts and if they should be doing more.
Naturally, our team adjusted to each business accordingly while assessing if their on-site and off-site SEO could be improved. Among other things, we questioned whether there any keyword opportunities currently being missed, if there are sufficient internal links across pages and if there are enough quality backlinks pointing to their website.
In addition, we also looked at organisations' social media pages, discussed how we could help grow audiences organically and reinforced the impact that paid social media advertising could have in generating more leads, thereby improving sales figures.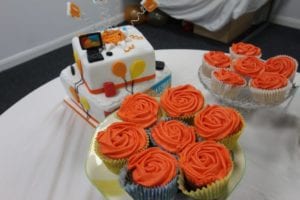 An Abundance of Praise 
In what was a day of reflection, excitement and progression, the Media Street team welcomed UK and Europe based clients, as well as business owners from Exeter and the wider surrounding Devon area.
We were delighted with the feedback we received and even more elated to hear that people had such a fun, productive time at our 10 Year Anniversary Party. Here's what people had to say about the day: 
Just a quick note to thank you for the very enjoyable and instructive party on Friday. I found Faye's history of websites particularly interesting. But most impressive is your total mastery of your subject and the work you are doing on behalf of your clients. I hope that the next 10 years are as productive as the first.
Thank you for yesterday, we had a great time and learned so much.
You all put on a very professional show and I did learn several things. The presentations by Grace & Faye were excellent and Charlie's wasn't bad either! You have a good team around you.
Congrats Charlie on the 10th Anniversary, seriously impressed with Faye's talk on web design.
What a great day, learned so much and left inspired. Excellent talks given with so much insight. Thank you to all at Media Street for making us so welcome.
Congratulations Media Street on your 10 year anniversary. You've given us great service and support over the last 6 years; Outstanding web design. Good to see you all today.