As a leading full-service digital agency in Exeter, Media Street love to be at the forefront of industry and technological advancements. Last month, two of our company representatives had the chance to visit Europe's largest marketing network event: The B2B Marketing Expo 2019. Furthermore, and following on from our recognition in this year's Parliamentary Review, Media Street attended the annual gala hosted by keynote speakers and politicians.
With all of the highlights and 'goings-on', our Marketing Manager, Grace, explains more below!
Two Brilliant Days of Networking and Celebrations
When I was planning our ticket applications to the B2B Marketing Expo back in October last year, little did I know that it would coincide with our attendance at this year's Parliamentary Review Gala, held at Westminster – I guess some things just come together perfectly! That being said, we knew we had a hectic 48 hours planned, but we were very much looking forward to getting our teeth stuck into some great networking opportunities and celebrating Media Street's recognition as an industry best practice advocate.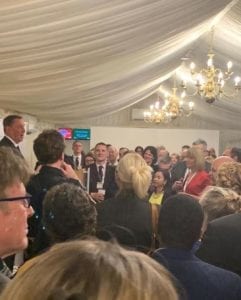 Attracting thousands of exhibitors and visitors from across the continent, the first day of the marketing expo was a hive of activity and excitement. The two-day event hosts a number of keynote speakers, from professional photographers to CEOs of luxury global travel agencies. It's certainly a brilliant resource for budding marketing newbies and those who thrive in gaining exclusive 'firsts' in IT and technological solutions for their businesses.
With hundreds of exhibitors enticing individuals into their stands; from SMS translation gateway providers, to well-known CRM developers and everything in between, there was so much we could learn and take away and take back to Exeter (including the incredible amount of freebies!). As a marketer who is always striving for industry developments and putting them into practice for client campaigns, there were several things that stood out to me in terms of being 'things to look out for' in 2019/20:
Artificial Intelligence (AI)
Although at the very start of its development journey, AI is certainly coming into its own, and quite rapidly at that. Media Street have already implemented AI across multiple platforms and it helps us, as agents, to supplement our own knowledge.
However, if we really want AI to perform to the top level, marketers have to understand that AI can be anticipatory but not always 100% correct – it still has a long way to go before users can trust this technology. That being said, AI is growing at a rapid rate and with the introduction of Amazon's Alexa and other bots occupying personal and professional spaces, we look forward to seeing where AI can really come into its own.
Translation Technologies
Representing multiple international companies hosting a range of nationalities, Media Street are always on the lookout for unique technologies which can help our brands interact with their customers effectively and efficiently in their own language.
There's currently a number of companies who cater to these technologies, and just like AI, are trying to manipulate the internal 'bots' knowledge to make it as precise as possible. These translation technologies work in real-time and work over a number of platforms such as SMS and email to allow for a fluid, real-time customer journey where language barriers might meet.
Into the Night: Parliamentary Review Gala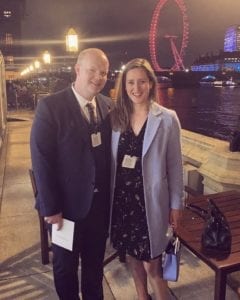 It was such a privilege to attend the Houses of Parliament for this year's annual gala. Although in the midst of the no-deal Brexit vote that evening, all business representatives included in the annual review enjoyed the night immensely. Headed by co-chairmen Lord Pickles and Lord Blunkett, the gala was a great chance to understand both the struggles and successes businesses face in the current climate.
This year saw more businesses than ever take part in the independent political journal, with the number of total copies of the report exceeding one million copies since establishment, it has become one of Britain's most widely circulated print publications.
The evening itself was hosted in a marquee overlooking the Thames, Embankment and the London Eye, which was lit up in its full glory – a magnificent setting for a night of celebration! Both Charlie and I enjoyed the night greatly and it was brilliant to be able to see the Houses of Parliament from a different perspective.
Media Street – A Leading Digital Agency in the South West
As a company, Media Street love to be at the forefront of upcoming industry developments – that's what makes us stand out from the crowd. If you would like to learn more about the variety of digital services we offer, contact us for more information. From full website design to inclusive marketing campaigns, our executives are on hand to provide only the best solutions for your business.