Like many digital start-ups, Media Street was founded in a bedroom; entrepreneur Charlie Street has taken the business from strength to strength, enabling companies worldwide to succeed online through a range of innovative digital services in Exeter. Since first developing payment gateways for Paypoint Net and Sagepay, the organisation has built over 500 websites since 2009 and currently manages more than 300 domains. Charlie, the Founder and Director, tells The Parliamentary Review more.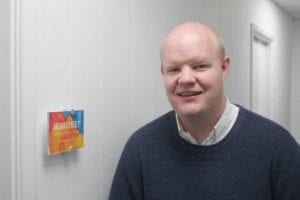 "I have always had a strong entrepreneurial spirit, and by the age of 11, I had developed my own popular magazine at school. By 16, my very own record label was born and by 19 a small network of companies were asking for my help online. At the time I was a hot air balloon pilot, so it was only right to employ my best friend to work from my bedroom whilst I continued to fly. To date, every member of the Media Street teams has been able to experience a hot air balloon flight here in Devon."
Growing A Successful & Fully-Integrated Digital Company 
"Within three years, Media Street had grown substantially. The decision to put the ballooning to one side and focus purely on the business, on a full-time basis, wasn't a hard one to take. Soon after, I started hiring out my parents' garden shed and ran the company from there. We continued to grow and three years later we move into a dedicated office and then into a two-room hot-desking office in Bristol.
"Today, almost ten years after Media Street was established, the company is run from a custom-built 2,300 square foot workspace near Exeter Airport. We have a vast array of international clients, who span many industries – such as African charities, Alpine chalet owners and local roofers and builders – in sectors including education, technology, ecommerce, accommodation, wellbeing, catering, printing, dentistry, security and weddings."
Comprehensive Digital Agency Services Devon
Media Street currently has around 50 marketing clients, many of which are on long-term marketing campaigns. In addition to this, we conduct a lot of ad hoc marketing for a variety of companies.
We are now a full-service digital agency and while most of our customers come to us wanting a new website built, within a year they often also conduct marketing, hosting and graphic design with us. 
Supporting companies to enhance the delivery in every aspect of their marketing campaigns is important to us; working in synergy helps everyone to be on the same page. The same goes for digital businesses – we are a lot more effective when we can control and work on every element of a company's digital strategy.
In order to achieve such success, it's important that the team can communicate effectively and efficiently on a daily basis. That's why we have been placing a strong focus on AI and automation within our digital communication platforms. For example, an "office AI bot" has been introduced to give advice and enhance staff knowledge – anything from HR queries to marketing and design help. Staff also have access to an application that gives them real-time information on sudden spikes in website traffic for marketing clients.
Full transparency with our clients is hugely important. We use interactive, online project boards, which clients have full access to, so they are able to keep up to date with their marketing campaigns and web design projects, 24/7.
Outstanding Exeter IT Services 
Media Street is proud to have represented thousands of digital companies across the UK in the 2018/19 Parliamentary Review. To read the rest of our highly recognised work and to learn more about the digital services we provide, download the PDF of the Review, here. 
If you would like to be a part of our on-going journey, speak to one of our friendly staff members who will be happy to discuss your individual digital requirements, from web design and hosting, to graphic design and marketing. Contact us today and we look forward to hearing from you.