When it comes web design, we put the client first. We listen to your needs and wants, and after rounds of meticulous research we build a site shaped around those wants and needs with a strong focus on user experience. And this works. All the time. We never leave our customers unsatisfied – a feeling which they also enjoy after they have a site made by us.
We've done this for years and we will continue to do for the foreseeable future. Recently, however, we've done it so well our praises have been sung. But first, let's give a little context.
Buckingham Equine Vets – The Website
Buckingham Equine Vets came to us in November in search of a new website. They wanted to catapult their business into the ever budding internet age. So here at Media Street we, with the assistance of the highly talented graphic designer Philip Field, built them a stellar website to do just that. Our aims with the site were to make it
Mobile friendly and work across all platforms/devices
Easy for users to navigate
Easy for users to find out where they're based and areas covered
To build confidence in their abilities via the use of accreditations
Integrate with social media
Show practice facilities
Launch by the start of 2018 in time for the new practice launch
From the time of their enquiry to the beginning of 2018 a lot happened. We successfully built Buckingham Equine Vets a website that fit all their stipulations and then some. They couldn't have been happier and neither could've we. But the celebrations don't stop there. Recently the website that we built has been nominated for an award.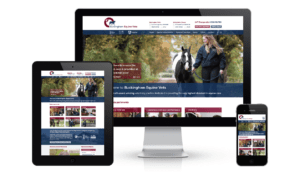 SME Awards
The SME Awards, a business award organisation that operates in Buckinghamshire, applauded the website we built for the Buckingham Equine Vets. The applause roared so loud they nominated the site for the finals of the website of the year award. A wonderful feat for all those involved.
It's great news that Buckingham Equine Vets is up for an award! The design by Phil is brilliant, navigating the site is really easy, and the layout's beautiful. Good luck to everyone at Bucking Equine Vets!
Jenny, Media Street Web Developer 
The awards ceremony is on April 7th. We're sure the event is going to be a great one – we'll let you know the results!
Do You Want an Award-Winning website?
Are you on the hunt for a new website? In our current climate, it's your first impression with new clientele. And you know that they say: you don't get a second chance at first impressions, so why not make it an award-winning impression; why not use Media Street. We'll be awaiting your call.