The online world has opened up opportunities for all companies – famous and local, to further customer engagement, outreach and advertising. Businesses have to prepare themselves for comments, some may not always be positive, in fact – some may be so odd they're unexplainable!
[bctt tweet="Only 30% of Facebook fans receive answers from companies! " username="mediastreet"]
…The ones who do make the effort to respond are separating themselves from competitors, and increasing opportunity for growth!
Every now and then, a look back is necessary – especially where social media is concerned. We're halfway through the year, and what better way to reminisce than to look at the best and funniest social media engagement conversations with businesses and established companies?
Some marketers go to great lengths to give people a laugh, but sometimes all it takes is an instant social post to make a company go viral overnight. We question, are cheeky customer service replies and noticeable social media 'fails' really a stroke of genius? There have been a number of times where tweets and gone viral overnight..
During the research, we questioned ourselves, what is the 'appropriate' way to respond on social media? At Media Street, we like the companies that don't take themselves TOO seriously online.
Here's 11 of our favourite examples, get ready for a laugh-a-minute. We've found the companies who've conquered the master of humour!
1.Tesco meets Geordie Shore?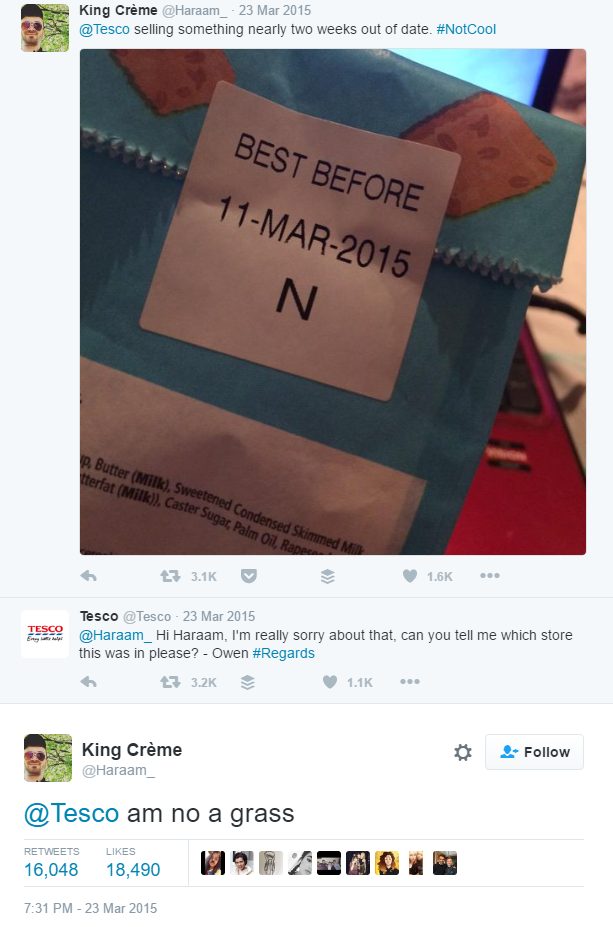 When a young man complained about an out of date sandwich from Tesco last year, the world of Twitter didn't anticipate what was coming. This conversation between Tesco and a customer managed to get thousands of retweets. It all started off with a complaint – and ended with Tesco getting free publicity. The 'geordie tweeting style' continues to give online entertainment – 'am no a grass' really seemed to – let's say 'tickle' a lot of people.
Is any publicity really that bad? – We think Tesco seemed to do ok out of it!
2.Royal Mail goes hashtag banter!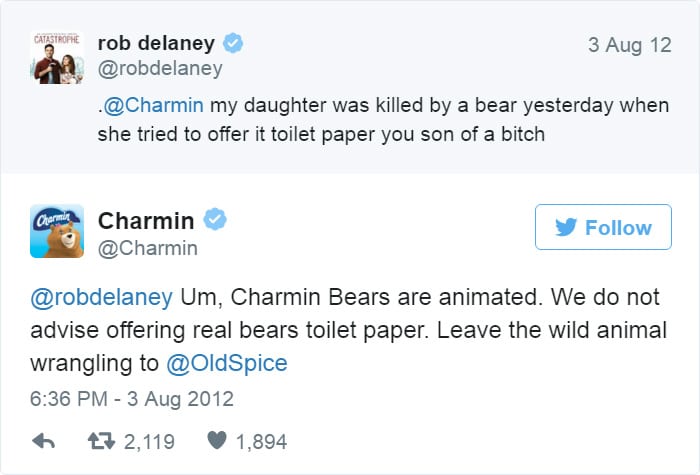 Customer service is important, especially on social media since it's expected of companies and businesses to reply to a query within the hour. The Royal Mail decided to make a simple joke with a customer and by doing so got hundreds of retweets on to people's timelines back in 2014.
3.  Tesco Mobile gives a genius reply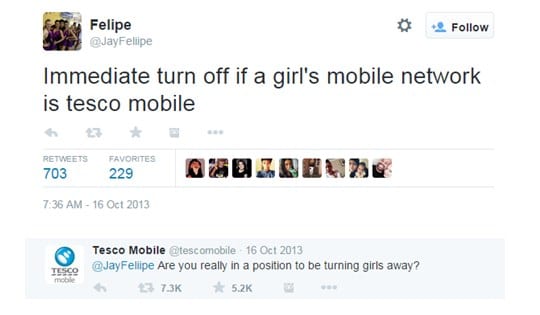 Ignoring negative customer interaction isn't the way to manage your online reputation – and nobody knows this better than Tesco Mobile! Laughter is clearly the best medicine when it comes to tweets going viral, and Tesco are 'on point' when it comes to poking fun at themselves and others. Searching your company or brand name and finding negative publicity might put you on edge, and Tesco have dealt with this in let's say, an unconventional way.
They gained over 7,000 retweets worldwide from making a joke at a customer – and all's well that end's well, they even sent him some free gifts to compensate for the joke!
4. Charmin try to charm Rob Delaney!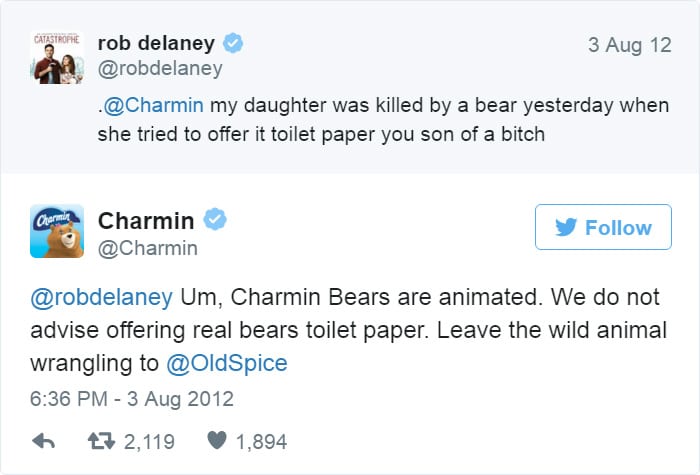 It probably helps when a celebrity mentions you online and Charmin managed to get over 2,000 retweets by responding to actor, Rob Delaney and Old Spice. By watching out for their recent mentions, they were able to show online users the fun in their brand – and probably managed to gain some customers out of it. This hilarious tweet was shared over 2,000 times.
It does make you wonder – who is sat behind the screen!?
5. Customer helps Samsung gain social media attention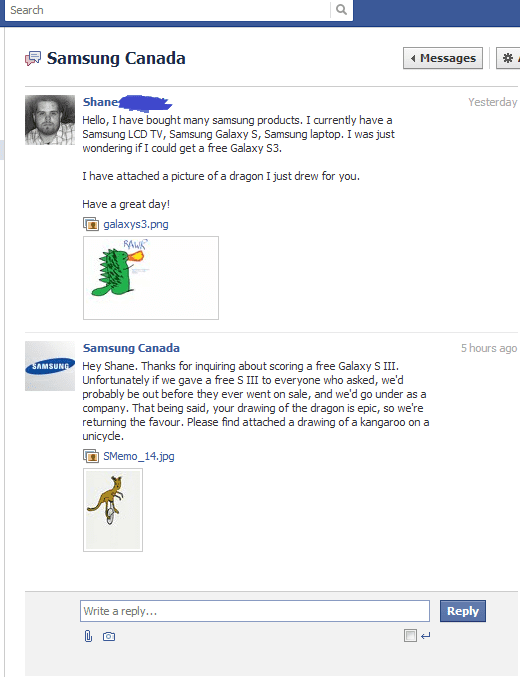 It all began with a simple Facebook message from a loyal Samsung fan – and it took the internet by storm in 2012! When a customer privately messaged the famous technology company, they kept an eye out – only to be greeted with a man asking for a free Samsung phone just because he already owned a collection of Samsung products! They wasted no time in responding accordingly, poking fun and interacting with the customer on a personal level. You have to applaud Shane for his assistance, because he actually ended up winning a Samsung Galaxy for free – with his dinosaur drawing on the back of it!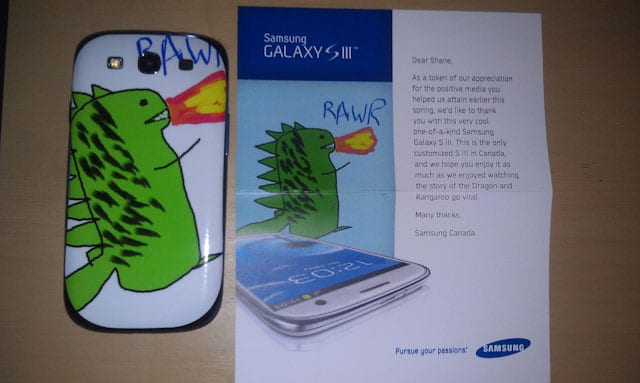 6. Tesco Mobile (again)
Tesco Mobile might not be the most popular phone network, but the social team certainly know how to have a laugh and take it on the chin. This is definitely our personal favourite! Gaining over 11,000 retweets, Tesco really pushed the boat out to make fun at an online user for poking fun at their brand. This one clearly seemed to make people 'LOOOOOOL'! Tesco definitely got the upper hand this time.
7. Taco Bell quotes Mean Girls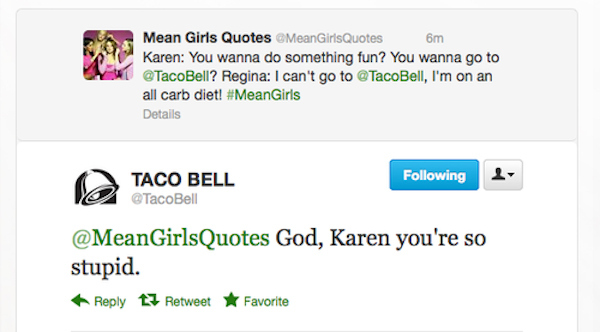 Known for using consistent humour on their social channels, their marketing technique is committed to witty one-liners. It's been more than 12 years since the incredibly popular film 'Mean Girls' debuted, but that doesn't stop it being an all-time fave of many, including brands and companies it seems! The famous taco restaurant cleverly replied with a popular quote from the film, showing their fan base that they know more than just taco recipes. You get our vote, Taco Bell – very down with the kids!
8. Kitkat VS Oreo – the fight is on!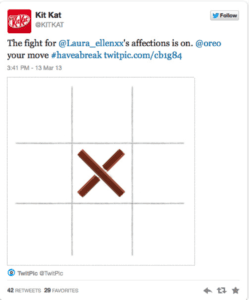 Companies going head to head is something we love to see. It's definitely the way to get noticed, people love a feud,and what better way to settle something than to have a laugh about it? Kitkat began by creating a brilliantly funny poster to win a customer's affections. But nobody was expecting this clever response from Oreo, who ended up pretending that they'd eaten the Kitkat! Gaining a number of retweets – we wouldn't be surprised if online viewers popped straight out to their local convenience store to pick up some chocolate!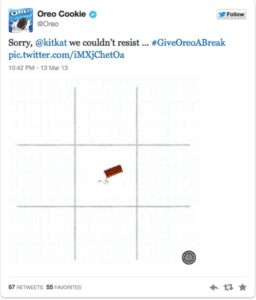 9. Sainsbury's hit back at sandwich criticism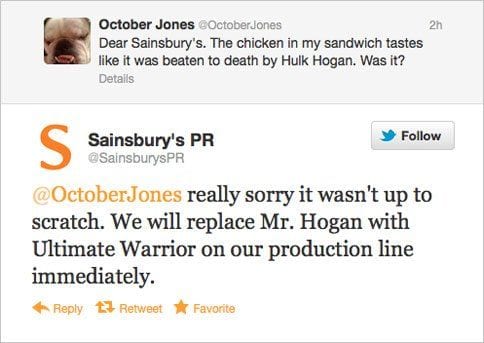 A negative tweet from a disappointed customer resulted in a barrel of laughs – from us here at Media Street anyway! this is proof that negatives CAN be turned into positives if done the right way, the customer was clearly making an initial jokem and Sainsbury's PR team chose to respond with humour and apology.
10. JetBlue Airways get witty

A JetBlue Airways fan decided to show her affections for the company in an – er – very eager manner, and the business decided to take it light-heartedly and provide a brilliant response. Let's hope Meaghan only ended up going for dinner – or this could've ended badly!
11.Krispy Kreme make a fatal error – or do they?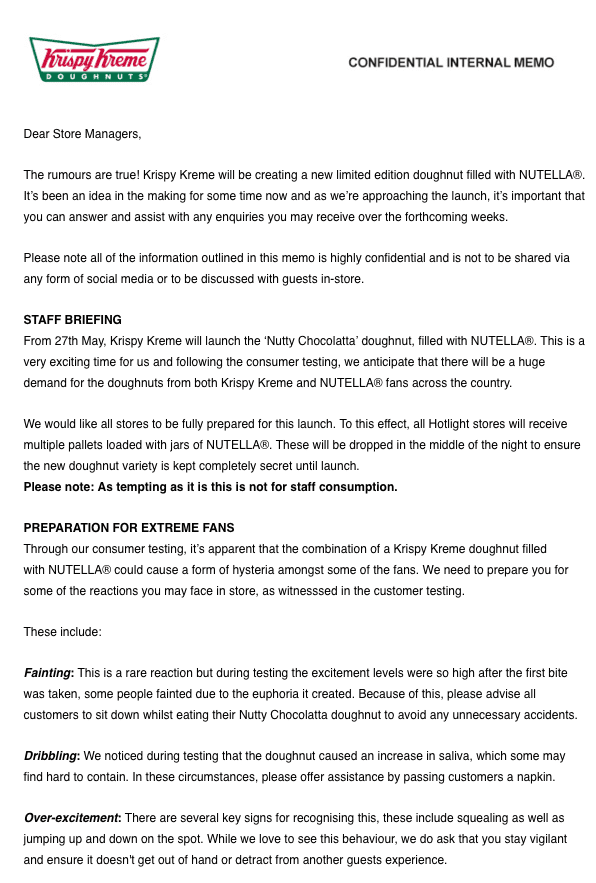 Recently, Krispy Kreme  leaked their 'confidential' new plan for a Nutella doughnut. We're not sure we're buying it… if this was social stunt – it certainly managed to bag some attention. We came across the post on LinkedIn and it already had hundreds of comments from digital marketers. This may have been a genuine fail, but even if it was, it managed to gain them social media attention, we can't imagine how many excited fans there'll be. Nutella. Doughnut. It's two words we thought we'd never hear in the same sentence. We're off to Krispy Kreme right now!
So, there you have it, replying to your customers on social media with a bit of humour could get you further than you think. Welcome to the Media Street hashtag banter awards and the winner is (drum roll please)….……… Tesco! They've given us a chuckle more than once. If you follow any other brands on social media for the lols, tell us about it!
Every company has a different approach to their social media marketing, but there are a few points to remember:
Reply as quickly as possible! Research shows that 42% of customers expect a response from a company within an hour!
Maintain your reputation and offer to solve customer problems
Don't ever attack a negative social post
prevent online complaints through consistent posts and the right tone
There's so much that can be done with a campaign online, could your business lighten up a little? Get in touch with the Media Street team if you're looking to improve your social media marketing plan.