Christmas is a time of giving…giving your audiences the most amazing social media posts of the year! It's time to get creative and inject some festive cheer into those dreary updates – and we can show you just how to do so!
Social media networks provide a fantastic platform to promote your business over the Christmas period, and with many customers searching the web for deals and festive offerings, you could seriously increase the amount of traffic to your site.
You don't have to be a genius to generate shares and interest across your social media posts. Consider what's relevant right now, but always think ahead when it comes to developing your marketing strategy.
If you've arrived here, you must be keen to know exactly how to engage with your customers over the Christmas period. After all, there's only so many times you can say 'Merry Christmas to all our followers' without feeling a little lame.
Add Christmas spirit to your social campaign in 11 steps…
The basics are important, and before you start rolling posts out, it's a good idea to 'jazz up' your profile, this way people instantly know you're active on social and you're making an effort to participate while blending the values and personality of your brand.
Decorate your cover and profile photos
This is a chance to update all of your active social channels. Add a Christmas hat to your logo or a little snow that fades in the background of your cover photo. This is the first step to getting your audience in the seasonal spirit and nothing says current like following the seasons when it comes to social media. This could further motivate your consumers to look for potential gift ideas / special offers that you may currently hold.

Whether it's the promotion of Christmas products or an elegant play on branding your logo to fit in with a bauble, consumers will acquire further trust in your company if you're updating your social campaigns.
Create a Christmas offer
Having an offer on leading up to Christmas is a great way to gain customers and keep existing clients returning. Some companies decide to hold '24 days of Christmas' competitions, which is a brilliant social engager. You may wish to offer a one-day only sale, but if you're doing so, the message is always the most important thing. The best thing to do is to create a social image that instantly connects with Christmas, use this a a basis for the background and from this use your branding or Christmas themed colours to shout about your offer.
This year, 'free shipping day' is December 18th, so it might be a good idea to get some hype around that!
Share the joys of Christmas time
Social media should not just be about self-promotion and you're preparing for much better involvement if you connect with others by commenting, liking, sharing and retweeting them. After all, social media is meant to be social!
Create the best social media images
Whatever you choose to write about and share, the images you use are incredibly important as they will ultimately be the difference between someone engaging with your post or ignoring it. Ensure that text doesn't invade the image, it's a good idea to mix bold shapes with text upon them like this one…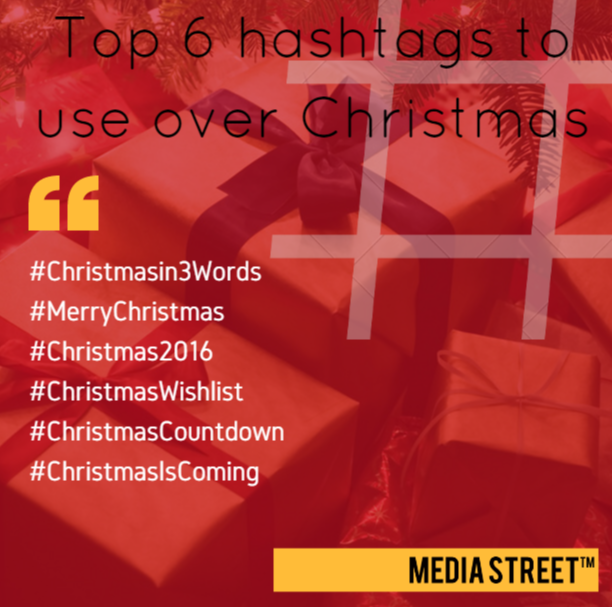 Share your festive food*
(*not literally, we know nobody likes parting with a crispy roast potato)
As people grow up, they soon realise that Christmas is in fact not just about the celebration of Jesus, the presents or the family love and joy, it's about FOOD. Videos and images of food have completely taken off on social media in 2016, and Christmas time is the best season to create food-related posts, as they're much more likely to be shared.
If you're tucking into a deliciously presented turkey sandwich, tweet it and tell the world! You can even use polls to gain further engagement..
Christmas Twitter poll ideas
Quality Street or Roses?
Pigs in blankets vs stuffing?
Wrapping paper or tin foil?
What's your favourite Christmas song?
Don't forget to use appropriate hashtags to gain further social engagement. People love this vs that choices, and it's doesn't take them a second to vote.

Get funky (and funny) with photoshop
Whatever industry you're in, people usually like a laugh around Christmas time. Most of us are in the spirit and excited for the break, so set your company up for some likes by adding food into objects.
If you're a decorating company, how about a paint bucket filled with Christmas sweets, or if you're a skiing company, what about replacing skis with giant candy canes? The possibilities are endless when you put your mind to it. It's always vital to share these using the relevant hashtags, for example #Foodie, #FoodPorn and #FoodGasm are frequently shared . Wait for the like and shares to come flooding in!
Everyone loves animals…. Use them!
As social media gurus, if there's one thing we've learned from managing multiple accounts, it's that people LOVE animals, dogs, cats, horses, rabbits, you name it. tilise them, dress them in Santa suits and show off your pets in Christmas settings, for example, your dog laying by the Christmas tree or wearing a Christmas hat, you could even put a hilarious spin on it and photoshop a glass of Baileys onto their paws!
Elf your company
If you're on social media, you've probably seen people merging their faces onto the bodies of rhythmical dancing little elves, so why not do it with you and your team? Give everyone a laugh across social channels with a little light hearted Christmas spirit.
Click here to watch our graphic designer Tamas elfing around….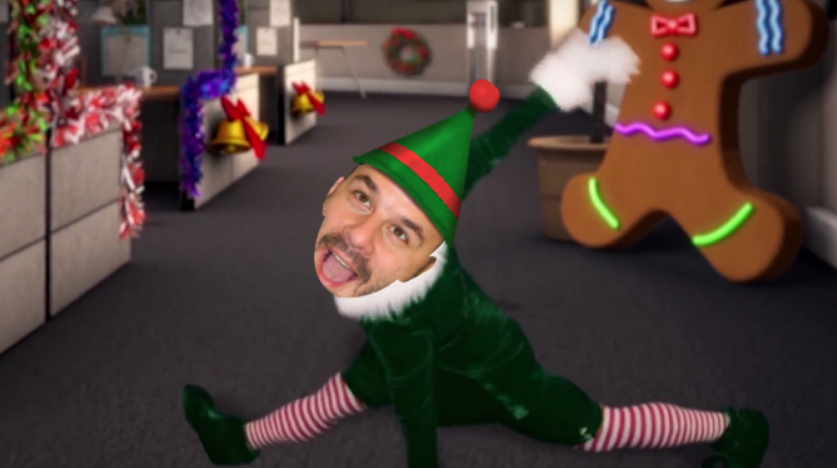 Spread the musical love!
We've created a playlist on Spotify with our favourite Christmas hits, but be sure to ignore marketing manager Beth's addition of Bieber! Many users are hashtagging #NowPlaying, and it's a great way to humanise your social campaign, often companies are concerned with promotion and products, but people may be more encouraged to know that there's a real face behind the blog sharing!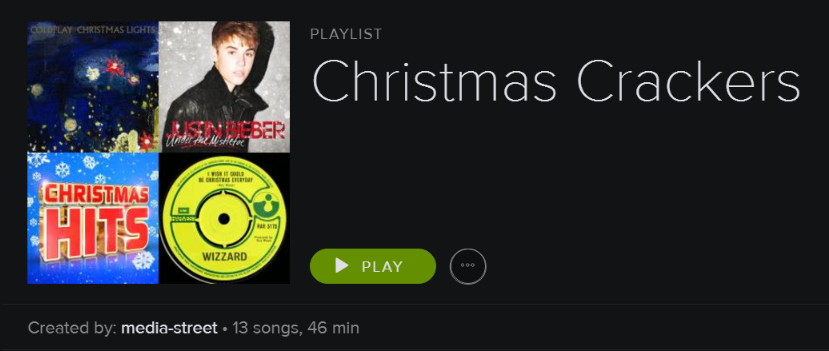 Utilise your team
When it's Christmas time, the majority of workplaces go out for dinner and wear Christmas jumpers, Santa hats , so show it off and wear it and share it with pride!
One of our clients sent us this lovely Christmas gift, so if you're receiving presents, let people know and thank them publicly, the chances are, they'll share it and your online presence will grow further.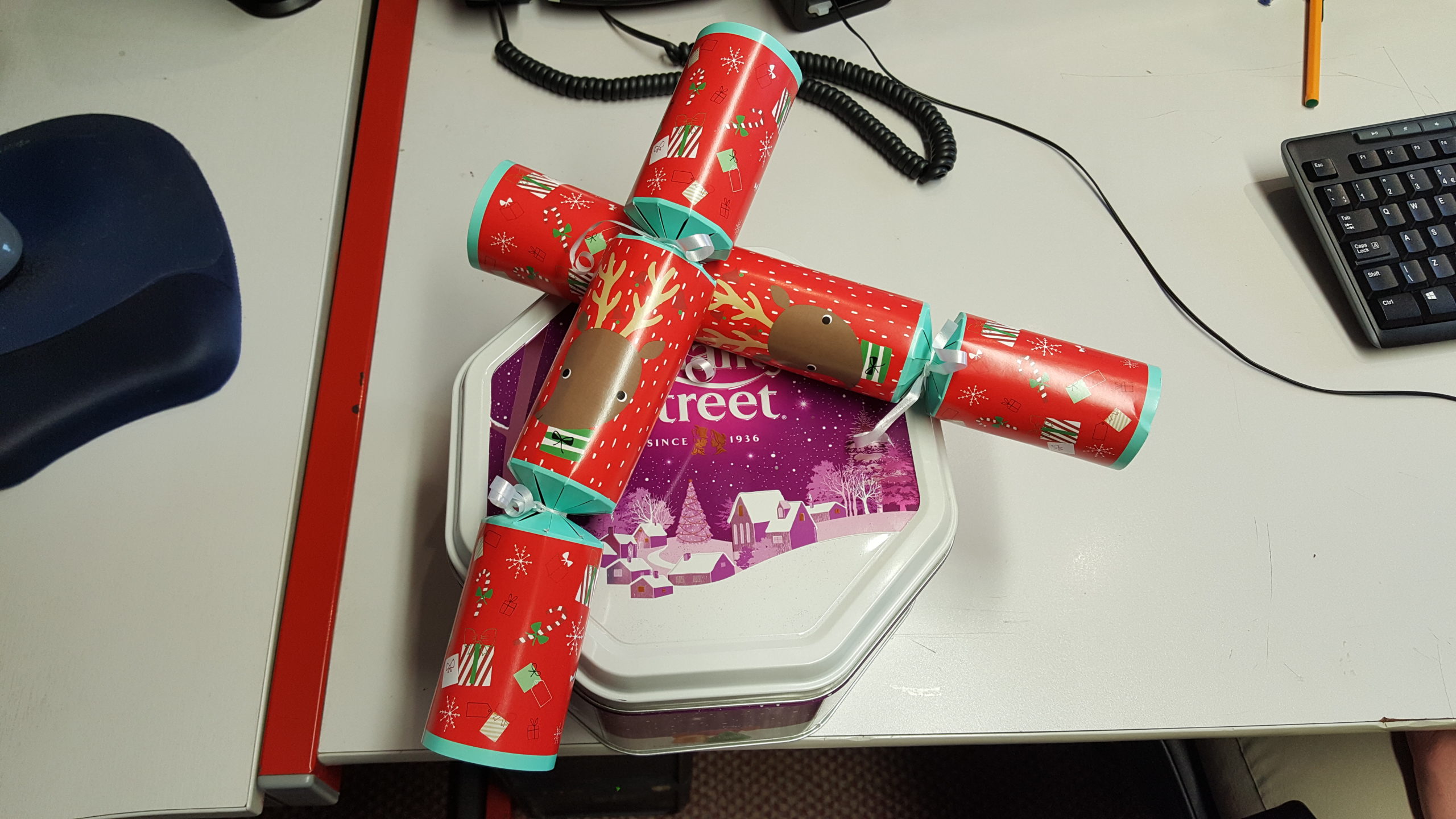 Use seasonal Twitter hashtags!
#Christmasin3Words
#MerryChristmas
#Christmas2016
#ChristmasWishlist
#ChristmasCountdown
#ChristmasIsComing
Get started!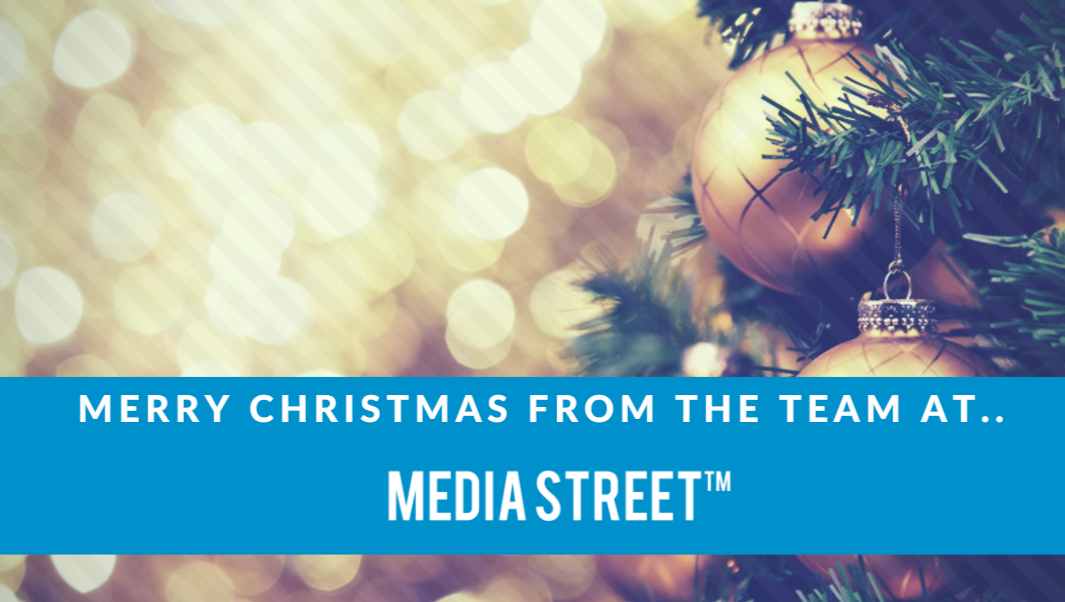 We hope you've enjoyed our Christmas social posting ideas, if you need assistance with your social campaign we specialise in social media marketing for companies from small-start ups to international enterprises. Drop us a line or give us a call to discuss your ideas!