Off the back of our ongoing mission to contribute positively to the environment, including our 'green' WordPress hosting, Media Street has continued to think of ways to give back to our landscape and help in the fight against climate change.
Following this, members of the Media Street team participated in a cleaning mission at Seaton Beach in East Devon on the 24th of September. Organised by Seaton Town Council, the two-hour beach clean was a huge success. Motivated by their commitment to protecting Devon's natural surroundings, Marianne, Becky, Faye, and Grace gathered their pick sticks and black bin liners, and their goal was clear: To restore some of the pristine coastline, one piece of litter at a time!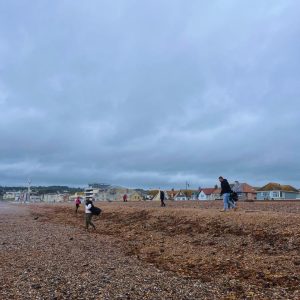 What Happened On The Day?
Heading out on the blistery coast of Seaton, the group of Media Street's very own eco-warriors and other colleagues, faced mother-nature head-on to tackle the clean. Each participant holding their pick sticks, swept the beach from one end to the other. Despite the challenging British weather, the team kept a firm grip on their bin liners and cracked laughs throughout the day to keep morale high. Take a look at our Facebook to see our colleague Becky battling the elements and getting stuck in – you won't regret it.
The group's perseverance and ability to enjoy the tough task paid off as they filled these bags to the brim, all leaving with smiles, knowing they'd relieved the shoreline of its litter infestation. In doing so, they breathed new life into the beach, restoring it to its picturesque best.
Digital Marketing Executive, Marianne, an eager member of the ego-warrior initiative commented: "The Seaton beach clean was the first group event we did as part of Eco Warriors and it was a huge success. Despite the weather being against us, we had a fantastic morning and it felt very rewarding to support the locals' mission to keep Seaton clean and tidy. I'm already looking forward to our next eco-adventure!"
What Else Do The Eco-Warriors Do At Media Street?
With the ambitions of protecting our beautiful planet, the eco-warriors group at Media Street regularly hold meetings internally, discussing upcoming events, conclusively deciding what the team should take part in. In addition to this, they are front-runners in suggesting ways that they can make the office even more eco-friendly.
As part of this eco drive, other initiatives have been welcomed into the Exeter based office, including:
The hosting services we provide are entirely run on renewable energy. Take a look at our blog post on 'Combating Climate Change With Media Street's Green Web Hosting'
Have motion activated lighting in all areas of the office, ensuring that electricity is only used when it's necessary.
In addition to these, we are virtually a paperless office, recycling all of their waste.
Marianne spoke about the necessity of being eco-friendly, commenting: "Long before I joined, Media Street has been a very eco-friendly office, but we decided it would be good to have a team of us in charge of organising regular activities and initiatives that everyone can take part in, to demonstrate our commitment to the environment and helping the local community".
Eco Plans In the Pipeline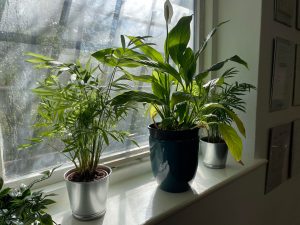 With ambitions of becoming more environmentally friendly, the eco-warriors have internally discussed numerous additional ways that the office can contribute to the cause. Examples include further preservation of wildlife, providing birds + squirrels with feeders located at the office and the installation of bee bricks, providing a nesting space that imitates how the species nested in brickwork.
Other ideas include the removal of notebooks, opting for reusable whiteboards instead which would reduce the amount of paper having to be recycled in the office. Additionally, we plan on sourcing more local produce for the snacks area. Not only will this be an investment into our local area, but it will also be in season, likely tasting better.
About Media Street
Based in Exeter, Devon, Media Street is a company that provides digital services to businesses throughout the UK and parts of Europe. With a dedicated team of professionals that have accumulated a vast amount of industry experience, Media Street runs successful client campaigns for companies in wide ranging industries.
Media Street offers a wide range of services, including web design, hosting, SEO, PPC, social media marketing, paid social, content writing, graphic design and more. Individual service types are often combined, to form a campaign that provides clients with greater visibility and presence.