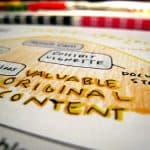 In days of old, search engine optimisation (SEO) was more of a science than an art. Stuff enough relevant keywords into a webpage or blog post and you would see its ranking improve – for better or worse, that's no longer the case.
Search engines' bots would find the key terms used in a search and boost the ranking of the website, but these days things have moved on. Content now needs to appeal not just to bots, but to real live human beings – and that means it needs to be interesting, funny and engaging, not just stuffed with keywords.
The quality of the content on your website is key to its success in 2015 – not only does it need to be relevant and well-written, but your pages also need to be updated regularly in order to retain their search engine rankings.
Of course, the nature of the content will vary wildly from site to site – a dentist's website will (hopefully) contain very different content to that of a popcorn brand, which will in turn need content quite different from a university's website.
The rules of content are not hard and fast but remember that the way you address your customers is intrinsic to the way that they perceive your brand – and consistency is important. Decide whether your tone is funny and informal or professional and formal, then don't deviate too much from that.
Your website's written content should capture the attention of your customer whether it's on a static web page or a blogging platform, so make sure what you're writing about is interesting to the type of customer you wish to attract. A 12 year old boy might be fascinated by the 10 grossest foods of all time, but it probably isn't an appropriate topic for your start-up catering firm's blog.
If you need a hand creating top-notch copy and content for your website, get in touch today on 01392 914033 to see what we can offer you.