Whether you're keen to get your eBay shop up and running or form the perfect listing, as design and marketing consultants, we've had a number of clients asking us eBay related questions, we're always happy to help, so we've created this handy resource.
Remember, there are certain factors to always keep in mind..
A title can make or break you
The description matters
Many people seem to struggle to get their listings quite right, with many appearing unprofessional, containing no product descriptions, images and weird font sizes and styles.
Getting the most of your eBay account
Your eBay shop should reflect your brand or business, therefore it should include your personal or business name. You will maintain a professional feel and gain recognition for the items you're selling. To thrive on an e-commerce platform, you must first decide why eBay is right for your business, the next step is ensuring consistent sales and traffic to your online storefront.
Aside from offering quality products, honourable customer service is a crucial factor for successful selling, you are still looking to stand out from your competitors, and branding your eBay shop with a good profile image and header, you're already providing consumers with trust in your listings.
Add a logo/profile image
Usually consisting of the store's name and branding, a profile image will help you gain recognition. This should symbolise who you are and what you do. Here's an example of a simple image that is looking to display the brand first and foremost: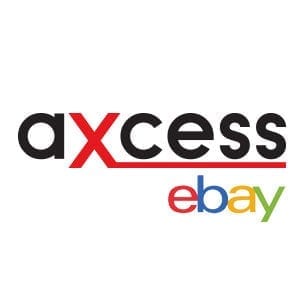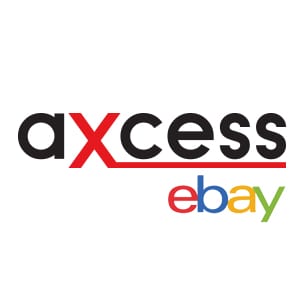 Add a header image
Making your online shop prominent, a header design should include your brand name, a website and any other information you wish to display. If you have a special message that you'd like to feature, this would be the perfect place to display it. It could look a little something like this…

As a professional design agency, we can produce eBay banners and logos.
How to create an effective product listing
1.Select a category
2.Add a headline
Your title should be a clear and compelling first impression of your item. This should include the product name plus any additional or useful information. The title is incredibly important and should be focused on what a user is typing in and essentially, what the product is. Your aim is to give yourself the highest possible position in the search results, and starting with a great title will give you the best headstart.
Use descriptive keywords that actually convey what you're selling, this should include product, brand name, item name, colour and condition.
3.Add an image
This should be your best and most clear image, add variations and close-ups to increase trust.
4.Add the product description
This should be 200-300 words and should not leave your customer wondering. If you have any lists in your product description – use bullet points to break it up; by making the terms simple and understandable, you are offering a customer the quickest route to gaining understanding of your item, making them more likely to convert.
5.Add cross selling – although this is not mandatory, if you're selling similar items it's a good idea to include a 'click here' button to browse more as it opens up your array of items to the user.
6.Include details such as payment types expected and delivery/returns policy
All you must do is simply describe your payment expectations and returns information, this way it is clear from the beginning how the transaction will progress. It could go a little something like this..
"At [brand name], we accept the following payment methods: 
Paypal, Bank Transfer, Cheque
Please make the payment within 5 days of ordering"
The shipping and return information is just as important and should include dispatch time and expected delivery time. Additionally, if somebody is not happy with the product you provide, they should be aware of the direction to go in.
"If you are not happy with your item, please return in the original packaging within 28 days" Be sure to include all the information that the buyer could make use from.
Product barcode information
You can either add product identifiers or barcodes to help match products using the eBay catalogue or in the Add item specifics section when forming your listing.
If you sell unbranded items, or items that don't have product identifiers, you can select Does not apply in order to complete your listing. If add in a product identifier, your product will receive search engine benefits, if you do utilise this feature, it should be added to each individual product listing.
How to create eBay listings in bulk
When you want to create multiple listings but don't have an existing listing to copy, you can create listings in bulk. These are an efficient way to form several listings with similar settings.
In My eBay, go to Selling Manager or Selling Manager Pro Drafts, Active, Sold, or Unsold view.
Click Create listing and select Multiple listings.
On the Start new listings page, enter the number of new listings you want to create.
Enter the information that you wish to be duplicate for all the listings you're creating. You may want to use the same category, shipping, and payment information for all of the listings.
For each listing, enter the values that are unique in the Quick edit pane.
When you're done entering the information for all the listings, click 'Submit all'. You will now have a number of listings with similar information, and would have probably saved yourself lots of time.
How to create copies of eBay listings
If you tend to sell many similar items or products, for example – the same category, shipping, payment and return policies, you can list more promptly by producing related listings from one single copy.
Select the listings you want to copy, then click Sell Similar. This will open the bulk listing tool with draft copies of the listings you have highlighted.
Select the copy you just created and click Create a copy, enter the number of copies you want to create. For example, if you want to form a total of 30 copies, enter '29' to create 29 additional to the listing you've just produced.
If the first listing that you copied uses information from the eBay catalogue, you can copy the catalogue information over, however this should only be done if the item you're listing is exactly the same as the original. If it isn't, you can edit your copies to display any values that are different.
You can edit your listing a number of ways:
Directly in the table.
In bulk: Select the copies you want to edit, select the field you want to edit from the Edit drop-down menu, and then select whether you want to edit the field in bulk for all the listings you selected or for one listing at a time.
Using the Quick edit pane, edit fields. To show or hide the Quick edit pane, click the appropriate icon next to Customise columns.
When you're done editing, click Submit to publish your copied listings.
If you require any further help with your eBay platform, please get in touch today.