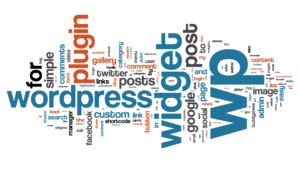 Did you know that WordPress has been used to create 20 million websites that is over 50% of all website designs are made using WordPress! A Massive 300,000,000 searches are WordPress related each month!
I am Gemma the newest member of the team here at Media Street a Digital Marketing and Web Agency; I work in the Exeter office. In my second week of starting work here, I was giving the massive challenge of launching a new website for the stunning Bickleigh Castle in Devon. Bickleigh Castle caters to Weddings and offers Accommodation and Corporate event hire but based in a breathtaking location. My manager, Charlie Street set up the basic layout in WordPress for the new site and I was given the daunting challenge of inputting all of their new content, this included finding imagery and writing content.
Feeling the pressure
This site being my first website I felt tonnes of pressure to not only impress our client with a fresh looking, attractive site but to also make an impact upon their business enquiries. I spent the first few days writing fresh new content that would contain useful links, engage the audience, and would be easy for Google to crawl through. I learnt that by using H1s and H2s, bullet points, links, keywords, lists and relevant content, it would maximise their business and hopefully improve their rankings.
Once I have finished all the writing and content, it had then dawned upon me that all of the photos I have were old fashioned, outdated and so not on trend. So with that being said I grabbed my Sony SLR camera, packed my bag, grabbed a few different tripods just in case I got nervous and my hand started to shake and I headed out to Bickleigh Castle. The client, Sarah had told me that one this day that there was a wedding undergo on this day, so what a better time to grab some classy, elegant Castle wedding photos to express the beauty of this perfect location.
The Wedding day!
I was a tad worried, that I would be in the way of their special day so I tried my hardest to be discreet (hence the tripod was not used). I managed to get to some high-quality photos that did express how beautiful the location was so I headed back to the office to edit them and get them uploaded. I did need some other pictures, which unfortunately I couldn't get like some of the fantastic food and accommodation so the client sent me some more extra photos.
Imagery
By using a few copyright free images for the header and 2-4 images per pages added class to the website. Galleries are old fashioned and unnecessary in my opinion. Making the site minimalist and clear has really helped its usability. Designing this website gave me enormous satisfaction as being married and a mother of two I have had the experience of looking for the perfect wedding venue. I thought I knew what brides and grooms would be looking for in their ideal wedding destination. I knew that for me, it was important to have an elegant location, hidden away in the countryside and exclusivity was paramount. Bickleigh offered these things, but their old website did not do it justice.
Organic & Useful Content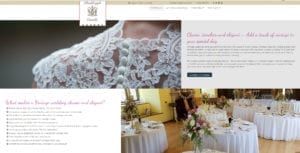 I included helpful tips and lists to inspire any Bride and Groom who were looking to get married, provided potential customers with imagery of the mouth-watering food on offer, I used a font which is classic and elegant but in a modern way. By researching into what clients may be searching for such as "Outdoor Weddings" "Devon Weddings" "Vintage Weddings" "Exclusive Weddings" ect and setting up a separate page for each, I am hopefully increasing the ratings and maximising the number of hits the site will get.
I got it all finished, and we went through a week of internal snagging, perfecting and optimising this site before I sent the client Sarah the link to her new love child. She was "over the moon!" and so exciting about the new website. She loved everything about it. Nothing is ever perfect so she did have a few images she wanted to be changed and few pieces of information that needed to be included on a few pages.
We have lift off!
The site went live at 17:30 pm on Tuesday 16th of August; I asked Charlie, my manager, how long a site takes to be switched with the old version. He said 2 minutes, and I was apprehensive. He did it, though, and it was live and so sweet to see that after all my hard work the site was finally finished, and the client would now hopefully see an increase in Accommodation and Wedding Bookings. You can view the website here at Bickleigh Castle, let me know what you think in the comments below. I would love to hear from you.
Google Rankings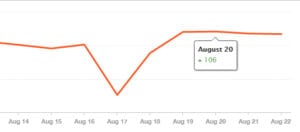 The following day I came into a shocking drop in Google ratings, terrified as to what had happened I spoke to Charlie. He explained how it was fine, and this has to happen as Google likes historical data. So setting up a new site does have a negative impact to start off with. It can take up to a week for everything to go back to normal and for the ratings to increase again.
I then learnt about 303 redirects and how having these in place would help as some of the URLs would be incorrect from Google. I went through 12 pages of google results for Bickleigh Castle and took the URL and set up a new 303 redirect from the old URL to the new relevant.
Meta what?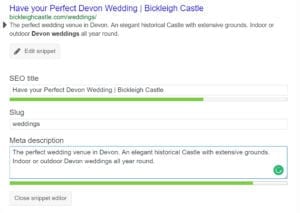 I learnt the importance of Meta-descriptions, Meta-tags and Open Graphs. By setting up unique descriptions for each page it would help Google to read and map out your website and guarantee that you will be higher on Google search.
I loved creating this new website, and I learnt so much from doing so. It has helped me learn about the bigger picture about website design and the importance of content and imagery. Finally, I have been very impressed with how easy to use WordPress is, how there are so many things you can do with it with extra plugins. Now I am extremely excited about my future career within the successful company that is Media Street and the massively increasing Web design industry.
Comment below if you have any questions or feedback about my first WordPress site! Get in touch with us here at Media Street if you have any Web Design, Hosting, Marketing or Graphic Design queries.