This week, the Media Street team attended their first ever event as exhibitors at the South West Business Expo in Exeter. This was a fantastic event, showcasing local businesses across the region, across a variety of industries and sectors.
Having attended the show as visitors before, the team were keen to showcase the range of digital services Media Street offer, including website design, marketing, hosting, VOIP systems and more. With over three thousand visitors coming through the door throughout the one day event, it was an exciting opportunity to get to know likeminded digital agencies, as well as small to medium businesses who were looking to progress their digital output in the coming months.
Media Street Account Manager, Sam, commented on the day: "It's been a really rewarding day for myself and the team. Seeing the stand come together and experiencing the exhibition from a exhibitor point of view has really opened our eyes to what business owners are looking for in their current digital strategy, as a whole. The conversations we've had today have certainly helped people understand what their website or online marketing may be lacking and how we can create bespoke packages to suit them.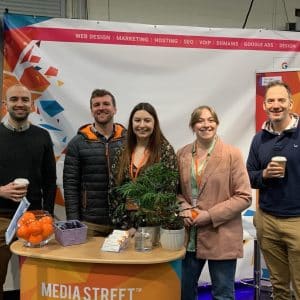 "There is no one size fits all approach to the services we offer, and I think the people we spoke to were really grateful in knowing that, as a company, we are transparent about the services we recommend and what might not be suitable for their strategy. It's also been fantastic to bump into and chat with some of our current clients and to hear how their businesses are growing!"
Throughout the day, executive staff joined in the event and listened to some industry talks, including:
Smarter Backup & Recovery for your Data
Connecting with Customers in Your Community: Unlocking the Power of Local SEO
How Data Management Is The Key To Business Success
Exeter Work Experience Opportunities
The team also engaged in conversations with local colleges about the opportunities for careers, work experience and apprenticeships at Media Street. Media Street are proactive in promoting the options for work experience students to come and join us as part of their curriculum, so it was great to speak to institutions who could facilitate this further.