The emergence of YouTube as an online platform has prompted many to consider its potential for use in search engine optimisation (SEO). As a source of visual content, YouTube offers a great opportunity for website owners to leverage its popularity and increase their exposure.
Not only does it attract millions of visitors every day, but it also offers a number of features that can be used to optimise content writing strategy and increase website rankings. This article will discuss the benefits of using YouTube for SEO, with particular attention given to how it can help drive traffic and improve visibility. We will also consider and explore utilising its features to take full advantage of your video marketing strategy in 2023.
YouTube Is Owned By Google
YouTube is an online video streaming platform owned by Google and, as the second largest search engine after Google, it is an essential tool in any SEO strategy. It has become a popular platform for viewers to watch short-form videos, such as music videos, vlogs, and other content.
The online video platform also allows creators to upload long-form videos and share them with the internet community across a wide range of genres, industries and topics. The platform uses an algorithm to rank videos according to various criteria such as relevance, popularity, and engagement, so making sure videos are informative and deliver key messages is a must.
Videos Can Appear In Search Result Pages
A key benefit of YouTube for SEO is the ability to appear in search engine results pages (SERPs). Videos can be featured within SERPs as either featured snippets, which are highlighted boxes containing a summary of an answer to a user's query, or rich snippets, which are enhanced search results that include additional information about the content. This offers businesses an opportunity to showcase their videos and draw attention from potential customers right from the initial search query. Including videos on SERPs can also help with click-through rates (CTRs), as images, especially dynamic videos, often draw more attention than plain text. Additionally, this can potentially increase brand awareness and build trust with customers.
Furthermore, having videos on SERPs may result in increased website traffic, as users may be more likely to visit your site after seeing a video snippet. Ultimately, YouTube provides an invaluable asset for businesses looking to improve their SEO efforts and gain visibility on SERPs. When we talk about featured snippets in search engine result pages, you will now see how YouTube ranks video, sometimes even before written content results. The quality, length and SEO tags you input into your YouTube video will determine how many times the video is shown in featured snippets.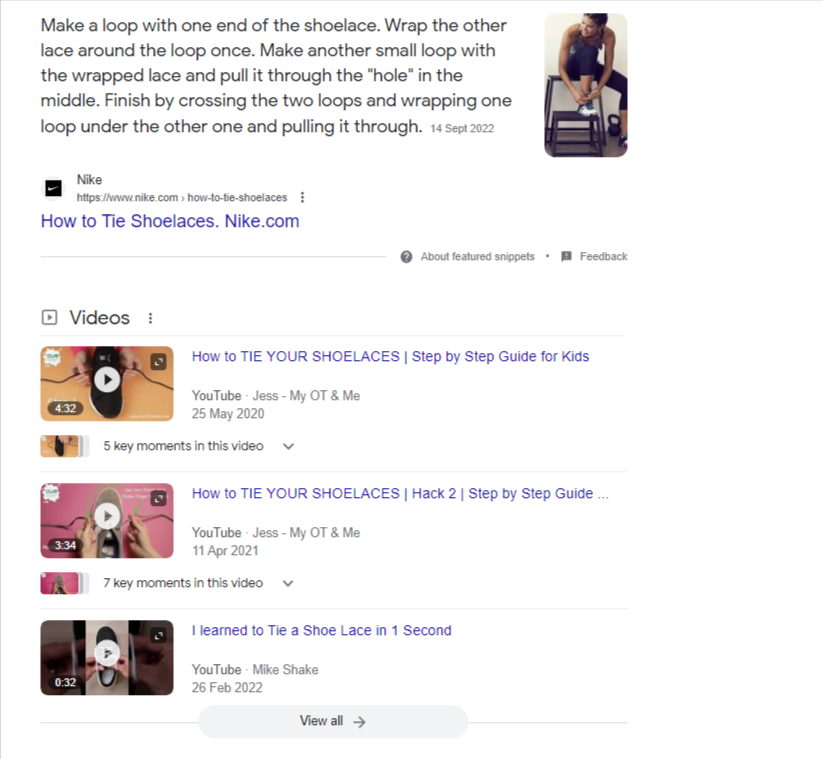 Additionally, YouTube's algorithm takes into account user engagement when ranking videos; this means that well-crafted titles and descriptions are essential for improving a video's SEO performance.
Embed Videos Into Websites
Video content offers a dynamic and engaging way to attract the attention of potential viewers that can be beneficial for SEO. Video embedded websites can generate increased visibility, helping to improve user experience and overall ranking.
Here are three elements that make embedding videos into websites advantageous for SEO:
Link Building/Backlinks: Videos often contain links back to the website they are embedded on, giving an extra opportunity for viewers to click through and explore the site further.
Dynamic Content: Embedding video content on a website is a great way to keep content fresh and up-to-date, as well as providing viewers with valuable information that can help them make decisions about their online journey.
Engagement: It has been found that when visitors come across video content within a website they are more likely to stay longer and engage with other pages within the site. This increased engagement helps search engines better understand what is important about the website, which in turn leads to higher rankings for the page or post containing the video content.
Video embedded websites can therefore create an improved search engine optimisation (SEO) strategy by increasing visibility, creating backlinks, providing dynamic content and improving user engagement levels with your website's content.
Optimise Videos For Search
Optimising videos for SEO is an important step in ensuring that content is seen by the right audience. Through careful analysis and keywords, including relevant meta-descriptions and thumbnails associated with each video, can also help capture attention in search engine results pages. Additionally, creating a sitemap of all video content can make sure that search engines crawl through videos quickly and accurately.
As such, taking advantage of YouTube is a no-brainer for businesses seeking to improve their digital presence and the importance of YouTube for SEO cannot be understated. When used properly, it has the potential to significantly improve search engine rankings. With videos appearing in SERPs, embedding them into websites and optimising them for search, businesses can take advantage of the power of YouTube for SEO to drive traffic to their webpages.
Enhance Your SEO Content Strategy With Media Street
Are you looking to take your YouTube channel to the next level and start to make an impact with your website content? Speak to our expert team of marketers who will be happy to discuss your requirements and thoughts in further detail. Video is a powerful tool in any marketing campaign, so make the most of your content today! Contact us on 01392 914033 or email [email protected], today.