Local SEO is the process of optimising your website for local results in search engines. Your website visibility will depend on the search of users and their specific location matched with your business details and website link.
[bctt tweet="Consumers respond better to location specific search results"]
Why is local SEO so important?
It's important that you're always appearing in the search engine for particular local results so that online users actually discover your products and services. Local SEO just like regular SEO requires on and off page optimisation.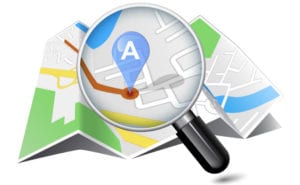 The first thing to ensure is that your business actually has a physical location so that you can master local optimisation. Even if your company provides services in a different area, it's easier to rank with geo-keyword phrases if your physical location matches the Google results. People who don't know your business and are searching globally may be looking for a 'cake shop', and Google will list appropriate results.  If somebody is searching for a 'cake making shop in exeter' you need to ensure that your website will appear to them in order to increase click-through rate and conversions.
Understanding local search
If you have a local presence e.g. a building company or shop then it's important to be found by the potential local customers. Once you have a Google My Business listing, your map and location marker will appear to online users in the search engine.
How to optimise your website for local and regular search
To gain the best possible rankings for your business, your website should contain well-written and relevant content for the best user experience and search engine factors. Google and other search engines use particular signals to decide which pages and websites display above and below others after an online user types in a query.
The best place to start is making sure that all pages of your website contain these SEO basics –
A meta description
Appropriate heading tags (H1, H2, H3, H4, H5, H6)
Image ALT text to describe pictures used
Correct contact information across all pages
Keyword appearances in URL
When optimising for local search, there are specific items to focus on in order to make sure that your website displays for certain geographical keywords such as Exeter, London, Bristol.
Your address should also be mentioned on your website in Schema format. Marking up pages with Schema microdata makes it easier for search engines to properly categorise site content.
It's also recommended to place your business address in the header or footer of your website so that it's visible on every page.
Understanding Google My Business
Google My Business connects you directly with your customers when they search for your services or company via the engine, maps or Google+. Information is listed so that customers can find you immediately regardless of the device used. Providing online users with the right information at the right time including hours of operation and a phone number means that they can instantly get in touch. Helping you build a loyalty base, Google My Business is a real factor to the contribution of successful local SEO.


What should my Google Business listing include?
These factors will contribute to the success of your Google My Business listing:
Relevance –

How well your listing matches the search terms

Distance –

Local searches are bound to a geographical location therefore, Google uses what it knows about a searcher's location to determine results

Prominence –

A measure of how well known your business is across the web also affects the ranking factors, things like links, reviews and blog mentions will contribute.
How to get client reviews for your business
An online review is a short write-up or rating based on user experience of your website, ser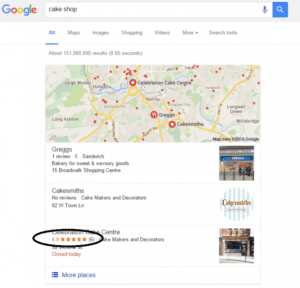 vices or products.
Local reviews have been proven to consistently help towards search rankings.
Many companies overlook the importance of reviews and how they are shown to improve customer trust, loyalty and further entice people to connect with your services.
How can I get a client to review my business?
There are three basic ways that a user can provide a review of your company. Making it easy for a consumer to provide a comment is the best way to acquire a positive one. This is pretty much free advertising and contributes to local SEO improvement.
Offline:

Speaking to customers via phone call, physical mail or in-store could help you gather basic thoughts of user experience. Negative feedback can be used to focus on the improvement of your business and positive comments can be used as online testimonials on your website.

By email:

Write a simple email asking to review with a link to the URL to do this.

Website:

Send out an email to the consumer with a basic template of how to write a Google review.
On site optimisation and using local keywords
Checking your Google Analytics to see which keywords are already bringing website traffic will help you understand which keywords are already bringing in website traffic. From this you can optimise pages based on your physical location. For example, if you're an Injury Lawyers based in Bristol, using 'injury lawyers bristol' in your title tag, body content and H tags will help the search engine to understand that this is what you do.
Google Keyword Planner is a useful place to start, this tool will help you discover which phrases and keywords are gaining the most searches and are most relevant to your business.
Creating and managing your business listings
Consistency is key and your business being mentioned through online directories will help users to find your business and search engines to recognise it. Accurate and informative information on the website regarding your business is important to the success of regular and local SEO.
How do I create a successful business listing?
Choose directories that are specific to your location
Use consistent NAP

(Name, address, phone number): Using the same information in each citation created produces consistency and correct information which is helpful to everybody.

Use as much information as possible:

Describe your business in the best and most informative way that you can, add photos, links, videos and opening hours to provide the search engine and the online user with the most relevant and useful info.

Use the right categories:

The majority of online business directories ask you for the most relevant categories to your business, this is a vital part of getting the listing right so that people that discover you will find exactly what they're looking for.

Don't duplicate content:

Your descriptions for each business listing should be similar but unique, writing the same thing word for word on several websites just confuses Google as they won't know how to appropriately rank.
Check out these top business directories to submit your business details to. Remember, links back to your website are about quality, not quantity.
Always ensure that you have a 100% Moz local listing to ensure that your business information is being correctly used across the web. You'll have a section that shows you if you have any duplicate listings.
A successful guide to using Google My Business:
Setting up and optimising Google My Business will help with local search results. Don't try to keyword stuff your business listing as this appears unnatural to the search engine and the potential customer. Extra information can be added and updated at later dates to keep the information relevant and informative.
The top local search ranking factors
Ok, let's recap and take a look at the top SEO factors that will contribute to your local online presence.
Separate landing pages on your website

for each service or series of products that your business offers e.g. you could create a page named 'building services in Exeter', once online users find this page

Relevant keywords assigned to each page

whether they're geo-based or general. These should ideally appear in the title tag, body content, meta description and URL's

Consistent and quality citations

using the presence of name, address and phone number (NAP)

Online reviews

from existing and new customers particularly contribute to click-throughs

Social signals

– Twitter followers, Facebook likes, mentioning physical location across your chosen social media platforms
Mobile signals – Having your website optimised for a phone or tablet can help improve your local SEO as searcher's using one of these devices will be shown if your website is mobile friendly.
[bctt tweet="77% of mobile device users contact a business after conducting a local search! @mediastreet"]
Don't underestimate the impact of local SEO, get your website locally optimised and improve your search presence today! Check out our local SEO services at Media Street.